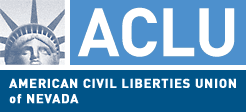 The following is from the law suit which show the distinction between hetero and homosexual molestation.
sexual act heterosexual molestation homosexual molestation
from the law suit
If the homosexual molestation law is struck down, then
a 75 year old man can legally seduce your 16 year old son with out any punishment
. All homosexual molestations which are currently punished with the punishment on the right, will only have the lesser punishment on the left.
The text of the law suit
article on the subject
The American Civil Liberties Union of Nevada is asking a federal court to declare unconstitutional a state law that calls consensual sex between two same-sex teenagers as "the infamous crime against nature" with a possible sentence of five years to life in prison.
The civil rights lawsuit filed on behalf of a Washoe County teen referred to as John Doe seeks just $1 in damages from Elko County and District Attorney Mark Torvinen. But it also seeks to invalidate what ACLU state legal chief Staci Pratt called a "homophobic relic" of a bygone era.
"The law says that if you are engaged in a same-sex relationship and you're between the ages of 16 and 18, you're committing a crime against nature," Pratt said Wednesday. "The law is patently unconstitutional because it treats identical conduct differently based solely on whether the sexual activity involves two persons of the same sex."
The state law makes it a felony if a person "incites, entices or solicits a minor to engage in acts which constitute the infamous crime against nature."
The ACLU has not only joined a court right to overturn the law, but has also contacted lawmakers in Carson City to repeal the law. A news release from the ACLU says their lawsuit believes the statute is 'unconstitutional in all of its applications. The law classifies and imposes disparate treatment based on sex and sexual orientation in violation of the Equal Protection Clause of the Fourtheenth Ammendment."
Nevada Homosexual Molestation Law, that they want to get rid of